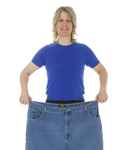 Just like so many of you, I struggled with my weight for years. Truly, this is the first time I have ever had a healthy relationship with food. Although I was thin in High School, it was because I just didn't eat. I was borderline anorexic/bulimic. I went for days with very little food, then "scarfed and barfed" entire bags of Doritos or Oreos. Nobody knew.
Later after I got pregnant and had my daughter, I just started eating - and eating – and eating. Oh, I stopped eating now and then. And I lost some weight. But I always went back to eating and gained it all back and then some. Sound familiar? I bet.
Eventually I got myself up to 300 lbs and a size 26. I was on the verge of not being able to fit into even the largest sizes available in the department stores. You can see my old "fat pants" in the picture above.
I prayed and prayed and prayed. I asked God over and over to please motivate me to eat right, exercise and lose weight. In October 2002, He answered my prayer. I was diagnosed with Type II Diabetes. That was it. I was scared and I asked my doctor what to do. He suggested Weight Watchers, telling me that the program worked well for diabetics.
My personal goal is to share my experience with as many people as possible with the hope that I can help them to make the changes in their lives that lead to health and happiness.
If you are overweight, out-of-shape and unhappy... I can help! I'm Amy Culver, the Queen of Lean. I am an AFAA Certified Personal Trainer as well as a Certified Life Coach. I have been helping others to lose weight, have more energy and feel better about themselves since 2004.
I would love to come and speak to your group or organization. I can address a wide variety of health and fitness topics. Contact me for details.
If you have any questions or comments or would just like to chat, please feel free to contact me!