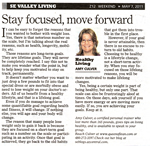 Stay focused, move forward
It can be easy to forget the reasons that you wanted to bother with weight loss. Yes, there is that notorious number on the scale, but I'm talking about the real reasons, such as health, longevity, mobility, etc.

Those reasons are long-term goals. They are lifetime goals. They will never be completely reached. I say this not to make you wonder what the point is, but to help keep you motivated to stay on track, permanently.
It doesn't matter whether you want to just drop a few pounds to fit into that special dress or are morbidly obese and need to lose weight on your doctor's orders. All of us benefit from a healthy lifestyle, and that is a lifelong goal.
Even if you do manage to achieve some quantifiable goal regarding health and fitness, it will change. If nothing else, you will age and your body will change.
The reason that many people lose weight only to gain it back is because they are focused on a short-term goal such as a number on the scale or participating in an activity. Once that goal is achieved, they go back to the old habits that got them into trouble in the first place.
However, if your goal is never attainable, then there is no excuse to return to old habits. Choosing to be healthy is a lifestyle change, not a short-term activity. When you stay focused on those lifelong reasons, you will be more motivated to make lifelong changes.
Yes, being a certain weight is part of being healthy, but only one part. That scale can also be frustratingly aloof at times. On those days, ask yourself if you have more energy or are moving more easily. If so, you are achieving your goals. Keep at it.