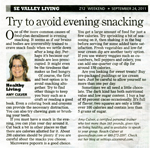 Try to avoid evening snacking
One of the more common causes of food-plan derailment is evening snacking. It seems as if our brains and bodies are irreversibly trained to crave snack foods when we settle down after a long day. Perhaps it's because our minds are less preoccupied. It might even be the tiredness that makes us feel hungry.

Of course, the first and best option is to avoid snacking altogether. Try to find other things to keep you busy such as a craft or reading a good book. Even a coloring book and crayons can provide the necessary distraction. You can also try chewing gum or brushing your teeth.

If you must have a snack in the evening, you can plan your day around it. Cut back a bit in other places so that there are calories allotted for it. About 200 calories should be plenty if you are careful about the snacks you choose.

Microwave popcorn is a good choice. You get a large amount of food for just a few calories. Try sprinkling a bit of seasoning on it, then shaking it in the bag before serving for some added taste satisfaction. Fresh vegetables and low-fat sour cream dip are another tasty option. If you use watery veggies such as cucumbers, bell peppers and celery, you can add one-quarter cup of dip for around 150 calories.

Are you looking for sweet treats? Buy pre-packaged puddings or ice cream bars. Just be careful to allow yourself no more than one per day.

Sometimes we all need a little chocolate. The dark kind has both nutritional value and low sugar content. I buy a bar of 85 percent cacao occasionally. It's full of flavor; two squares are only a little over 100 calories and contain less than 5 grams of sugar.