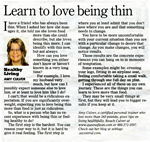 Learn to love being thin
I have a friend who has always been thin. When I asked her how she manages it, she told me she loves food more than she could describe, but she loves being thin more. I can identify with this now, but not always.

How can you love something you either don't know or haven't known in a very long time?

For example, I love my husband very much, but how can I possibly expect someone else to love him, or at least to love him like I do?
I can't; that would be a ridiculous expectation. If you are significantly overweight, expecting you to love being thin more than food is just as ridiculous.

So, what is a person who has no recent experience with being thin or feeling healthy to do?

The first step is the hardest. You can reason your way to it, but it is hard to give it real feeling. The first step is where you at least admit that you don't love where you are and that something needs to change.

You have to be more uncomfortable with your current situation than you are with a particular change in order to desire that change. As you make changes, you will notice results.

Those results are the concrete experiences you can hang on to in moments of temptation.

Some examples might be: crossing your legs, fitting in an airplane seat, feeling comfortable taking a small walk, getting through one full day on plan.

I experienced all of these on my own journey. These are the things you can learn to love more than food.

They may be very small things at first, but they will lead you to bigger results if you keep at it.