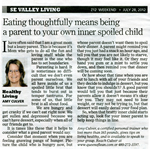 Parenting your own inner spoiled child
I have often said that I am a great mom but a lousy parent. This is because it's Mom who gets to do all the fun and loving stuff while the parent is the one who has to set boundaries.

Parenting is hard. It is sometimes so difficult that we don't even parent ourselves. We all have inside of us a spoiled little brat that tends to burst out in temper tantrums. For some of us, that little brat is all about food.

We are hungry and get cranky if we can't eat right now. We get sullen and depressed because we can't have dessert, especially when all of our friends get to.

It is times like these that it helps to consider what a good parent would say.

Consider that moment when you are feeling gnawing pangs of hunger. Picture the child who is hungry now, but whose parent doesn't want them to spoil their dinner. A parent might remind you that you just had a snack an hour ago, and tell you that you are not likely to starve, though it may feel like it. Or they may hand you gum or a mint to settle you down, and then remind you that dinner will be coming soon.

Or how about that time when you are out to lunch with all of your friends and they decide to indulge in dessert, but you know that you shouldn't? A good parent would tell you that just because their parents allow it doesn't means it's okay for you. They may not need to lose weight, or may not be trying to, but that dessert will easily derail your food plan.

So, when that bratty inner child starts acting up, look for your inner parent to help keep things in line.