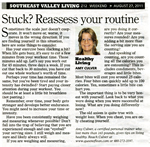 Stuck? Reassess your routine
Sometimes the scale just doesn't cooperate. It won't move or, worse, it moves in the wrong direction. If you are finding yourself in this situation, here are some things to consider.

Has your exercise been slacking a bit? When life gets busy, it's easy to cut a few minutes from your workout time. Those minutes add up. Let's say you work out for 45 minutes, three days a week. If you cut that back to 30 minutes, you have cut out one whole workout's worth of time.

Perhaps your time has remained the same, but you've been tired and your intensity has dwindled? Start paying closer attention during your workout. You should be at least a little bit breathless (not panting).

Remember, over time, your body gets stronger and develops better endurance. You might need to increase your time or intensity.

Have you been consistently weighing and measuring whenever possible? Don't fall into the trap of believing that you are experienced enough and can "eyeball" your serving sizes. I still weigh and measure and likely always will.

If you are weighing and measuring, are you doing it correctly? Are your measures rounded? Are you adding a bit more than the serving size you are counting?

And speaking of counting, are you counting ALL the calories you are consuming? This includes condiments, beverages and little bites. Most bites will cost you around 25 calories. Four bites can quickly add up to 100 calories. Yes, sometimes a little bite can hurt you.

The important thing is to be very honest with yourself. Look back to what you were doing when you were successful at losing. What are you doing differently now?

The old axiom is quite true with weight loss: When you cheat, you are only cheating yourself.