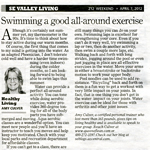 Swimming is a good all-around exercise
Although it's certainly not summer yet, my thermometer is already into the 90s. It's time to think about how to stay active during our warm months.

Of course, the first thing that comes to my mind is getting into the water. As an adapted Phoenician, I don't tolerate cold well and have a harder time swimming (even indoors) during the colder months, so I am looking forward to being able to swim laps this summer.

Water can provide a perfect all-around activity. You can tone while doing aerobic exercise; water provides 360-degree toning for all of the body parts you have submerged and moving. Aqua aerobic classes are a wonderful option. You can meet new people and you'll have an instructor to teach you moves and help keep you motivated. Check with your local parks and recreation department for affordable classes.

If you can't get to a class, there are still many things you can do on your own. Swimming laps is excellent for strengthening your core. Even if you can't do it very well, try swimming a lap or two, then do another activity, then swim a couple more laps, etc. Walking back and forth with long strides, jogging around the pool or even just jogging in place are all effective exercises in the water. Move your arms in either a breaststroke or backstroke motion to work your upper body as well.

Pool noodles can be used to add resistance. "Bicycling" back and forth on them is a fun way to get a workout with very little impact on your joints. In fact, that is one thing you don't get in the water: impact on your joints. Water exercise can be ideal for those with arthritis and other joint issues.