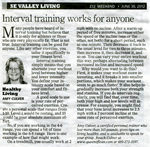 Interval training works for anyone
Many people have heard of interval training but believe that it is only for athletes or those who are very physically fit. That is not true. Interval training can be good for anyone. Like any other exercise, you tailor it specifically to your fitness level.

Interval training simply means that you alternate your workout level between higher and lower intensity. You define your intensity scale based on your comfort and fitness level.

A good scale to use is your rate of perceived exertion. Create a personal scale that ranges from 1-10. Level 1 would be resting, and 10 would be your absolute maximum effort.

So, if you are working in the 4-6 range, you can spend a bit of time working in the 6-8 range. Here is one example of how that might work:

On a treadmill, you usually work at 2 mph with no incline. After a warm-up period of five minutes, increase either the speed or the incline (one or the other, not both) for a short period, such as one minute. Then decrease it back to the usual level for two to three minutes, then increase it, then decrease it, and so on. You can vary your entire workout this way, perhaps alternating between increased incline and increased speed.

Why would you want to do this? First, it makes your workout more interesting, and it breaks it into smaller portions, which makes your workout seem to go much faster. It also helps to gradually increase both your strength and stamina. If you do intervals regularly, you will find that, over time, both your high and low levels will increase. For example, you might find that your base level increases to 2.5 mph with a 2 percent incline at the same rate of perceived exertion.