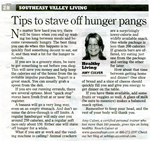 Tips to stave off hunger pangs
No matter how hard you try, there will be times when you end up waiting too long between meals and become ravenously hungry. The best thing you can do when this happens is to quickly find something decent to eat, eat it, and then wait a bit for the hunger to subside.
If you are in a grocery store, be sure to get something to eat before you shop. This will save you money and help to keep the calories out of the house from the inevitable impulse purchases. Yogurt is a great snack. You can usually grab a spoon from the deli to eat it with.
If you are out running errands, there are several options. Most "quick stop" stores have fresh fruit at or near the register.
A banana will go a very long way, even on an empty stomach. And don't assume the drive-through is off limits. A regular hamburger will only cost you around 250 calories, and a regular soft taco only about 150. Either one will stave off hunger for a while.
What if you are at work and the vending machine is calling? Animal Crackers are a surprisingly lower-calorie and widely available snack. One whole package is less than 200 calories. If granola bars are offered, try eating just one from the package and saving the other for later, or tomorrow.
How about that time between getting home and dinner? One slice of bread and a slice of cheese should quickly fill you and give you energy to get dinner on the table.
If you have them available, add some fruits or veggies as well. A glass of milk (be sure to measure) makes a nice, balanced snack option.
Remember to keep your head, and the rest of your body will thank you.