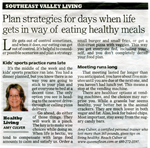 Plan strategies for when life gets hectic
Life gets out of control sometimes, and when it does, our eating can get out of control. It's helpful to consider possible scenarios and plan a strategy to handle them if they come up.

1: It's the middle of the week and the kids' sports practice ran late. You had a dinner planned, but you know there is no way you are going to stick to your plan and get everyone to bed at a decent time. The only option you see is heading to the nearest drive-through or calling pizza delivery.

Go ahead, do either of those things, they will work in a pinch. The key is to make wise choices while doing so. When life is hectic, we tend to compensate with large food amounts to calm and satisfy us. Then we gulp it down in a rush without even tasting it. Order a small burger and small fries, or get a thin-crust pizza with veggies. This way you get everyone fed, including yourself, and you don't completely derail your food plan.

2: That meeting lasted far longer than you anticipated, you have about five minutes until you are due at the next one, and you haven't had lunch yet. This means a stop at the vending machine.

There are healthier options at vending machines, and the choices may surprise you. While a granola bar seems healthy, your better bet is the animal crackers. They are much lower in both sugar and fat. Also, look for baked chips. Most importantly, stay away from the sugary candy bars that will only leave you feeling crashed in an hour or so.

Remember, when life is crazy, keep your focus. Always keep an eye out for quick, healthy options that you can grab in an emergency.