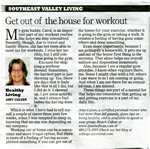 Get out of the house for your workout
My gym buddy, Carol, is an important part of my workout routine. She helps me stay committed. Recently, though, due to travel and family illness, she has not been able to meet me for workouts. I miss her terribly, but I still continue going to the gym.

Excuses for skipping a workout abound. Sometimes, the hardest part is just showing up. Yes, there are days that it feels like that is all I did, but I did do it. I showed up, I got some activity in, and I always feel better for having done it.

Which is what I have had to tell myself a couple of times these past few weeks, when I was tempted to sleep in, knowing that no one was depending on my company.

Working out at home can be a convenient and more frugal option. But there is more of a feeling of having accomplished something if you can get out of the house for your exercise, whether it is going to the gym or taking a walk. It creates a feeling of having gone somewhere and done something.

Even more importantly, because I am primarily a housewife, it gets me up and out of the house first thing in the morning. That alone helps my overall outlook and disposition immensely.

Also, because I am a regular gym attendee, I know other regulars there, too. Some I might chat with a bit, others I can wave to as I am coming or going. And when I am not there for an extended time, I am missed.

These things are part of a mental list that helps me remember that getting up and getting exercise is a part of my daily life.