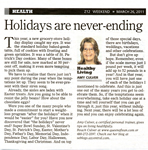 Holidays are never-ending
This year, a new grocery store holiday display caught my eye. It was the standard holiday baked-goods table, full of cookies with frosting and green sprinkles. It was a table of St. Patrick's Day cookies. Many of these boxes are still for sale, now marked at 50 percent off, making it even more tempting to pick them up.
We have to realize that there just isn't any point during the year when the temptations let up. They seem to be ever-present with their siren song.
Already, the aisles are laden with Easter treats. Are you going to be able to resist the jelly beans? How about the chocolate eggs?

Were you one of the many people who made a commitment to start a weight-loss program "after the holidays" when it would be "easier" for you? Have you now discovered that "the holidays" never end? Super Bowl Sunday, St. Valentine's Day, St. Patrick's Day, Easter, Mother's Day, Father's Day, Memorial Day, Independence Day, Labor Day, Halloween, Thanksgiving and Christmas. And on top of those special days, there are birthdays, weddings, vacations and other celebrations.
But don't give up hope. Remember, even if the scale moves just 1 pound per week, it will add up to 52 pounds in a year! And in that year, you will have just one of each of the holidays I mentioned to celebrate. And this is just one out of the many years you get to celebrate them. So, if the temptations seem overwhelming, take each holiday one at a time and tell yourself that you can get through it, just this year, without indulging. Next year, there will be a lot less of you and you can enjoy celebrating again.