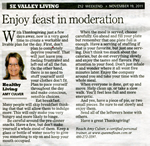 Enjoy feast in moderation
With Thanksgiving just a few days away, now is a very good time to create a workable and livable plan for the day. First, don't plan to completely deprive yourself. That will just leave you feeling frustrated and left out of all the fun. On the other hand, there is no need to stuff yourself until your clothes don't fit. Plan to pace yourself throughout the day and make conscious, sensible choices.
Eat breakfast. Many people will skip breakfast prior to the get-together thinking that that will allow them to indulge more. This will only make you very hungry and more likely to binge. If you eat a good breakfast, you will have more ability to control yourself.

Be careful around the pre-dinner snacks. Have a few, but don't make yourself a whole meal of them. Keep a glass or bottle of water nearby to give you something to sip on and keep your mouth occupied.

When the meal is served, choose carefully. Go ahead and fill your plate but remember that one plate full is enough. Have a serving of stuffing if that is your favorite, but just one serving. Don't think too much about the calories, but do eat everything slowly and enjoy the tastes and flavors. Pay attention to your food. Don't just inhale it and wonder where it all went five minutes later. Enjoy the company around you at the table and take your time with the whole meal.

When everyone is done, get up and move. Help clean up, or take a slow walk. You'll feel less full and more energetic.

And yes, have a piece of pie, or two small pieces. Be sure to eat slowly and enjoy them.

Send all of the leftovers home with others.

Have a great Thanksgiving!